Top 100 Most Popular Art/Culture Websites
Discover the new top Art/Culture websites in the world based on ranking, traffic and engagement such as pixiv, deviantart or artstation.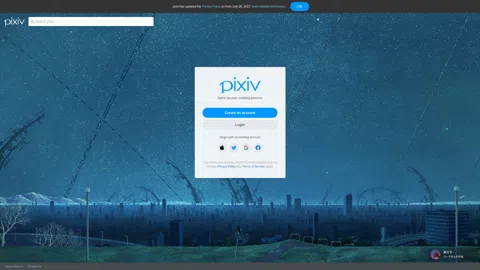 Pixiv(ピクシブ)は、作品の投稿・閲覧が楽しめる「イラストコミュニケーションサービス」です。幅広いジャンルの作品が投稿され、ユーザー発の企画やメーカー公認のコンテストが開催されています。
Pixiv alternatives
DeviantArt is where art and community thrive. Explore over 350 million pieces of art while connecting to fellow artists and art enthusiasts.
Deviantart alternatives
Just a moment...
Artstation alternatives
Domestika.org is ranked number 2806 in the world and links to network IP address 13.225.38.2.
Domestika alternatives
ArchDaily, Broadcasting Architecture Worldwide: Architecture news, competitions and projects updated every hour for the architecture professional
Archdaily alternatives
Dan.com is ranked number 4225 in the world and links to network IP address 52.28.84.253.
Dan alternatives
What's my IP address, how to find and check my IP address. Two versions of anonymity check: light and extended
Whoer alternatives
色影无忌_中文影像生活门户.
Xitek alternatives
ARTE, the European culture TV channel, free and on demand.
Arte alternatives
Picsart is the largest all-in-one creative platform of photo, video editing, and design tools. An ecosystem of free-to-use content and inspiration from other creators.
Picsart alternatives
Aryion.com is ranked number 7531 in the world and links to network IP address 104.18.43.79.
Aryion alternatives
Official website of the Smithsonian, the world's largest museum and research complex, with 19 museums, 9 research centers, and affiliates around the world.
Si alternatives
Galerie Leonard & Bina Ellen Art Gallery.
Ellengallery alternatives
Poems, readings, poetry news and the entire 100-year archive of POETRY magazine.
Poetryfoundation alternatives