Top 100 Most Popular Spirituality/Belief Websites
Discover the new top Spirituality/Belief websites in the world based on ranking, traffic and engagement such as loom, epochtimes or astrosage.
Record your screen, share your thoughts, and get things done faster with async video.
Loom alternatives
包括美国中文媒体在内的海外中文媒体中,大纪元从美国中文报纸开始,现在不仅变成了海外最大中文媒体,美国最有影响力中文媒体,同时也是全球最大中文媒体,新闻即时权威多语种,报纸发行美国、加拿大、欧洲、澳洲、中国、台湾、香港,分布在纽约、洛杉矶、旧金山、华盛顿DC、亚特兰大、迈阿密、芝加哥、休斯顿、​​达拉斯、西雅图、温哥华、多伦多、悉尼、墨尔本、伦敦、巴黎、柏林、法兰克福、东京、首尔,内容包括要闻、 社区生活、传统文化、法律财经、教育移民、医疗健康、艺术时尚、旅游地产、美食、娱乐体育。
Epochtimes alternatives
Astrology- Free Online Horoscope & Online Astrologer.
Astrosage alternatives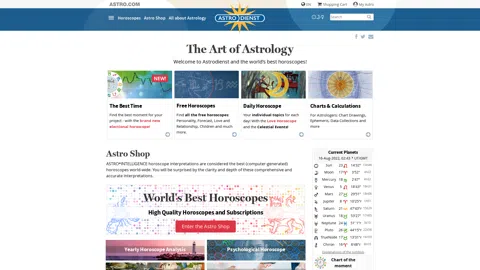 Free Astrology and Horoscopes from Astrodienst! Get your free horoscope - and much more! Astrodienst provides the world's best astrology site for free horoscopes, professional astrological reports and information about astrology.
Astro alternatives