Top 100 Most Popular Instant Messaging Websites
Discover the new top Instant Messaging websites in the world based on ranking, traffic and engagement such as whatsapp, telegram or t.
WhatsApp Messenger : plus de 2 milliards de personnes dans plus de 180 pays utilisent WhatsApp pour rester en contact avec leurs amis et famille, où que ce soit et à n'importe quel moment. WhatsApp est gratuit, disponible sur téléphones et offre la possibilité d'envoyer des messages et d'appeler partout dans le monde, le tout de façon simple, sûre et fiable.
Whatsapp alternatives
Telegram Messenger.
Telegram alternatives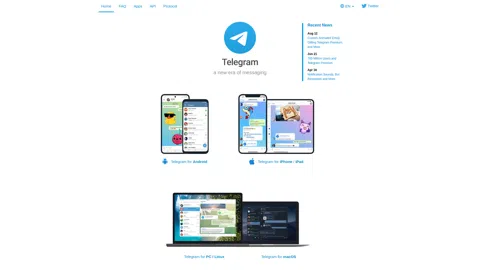 Telegram Messenger.
T alternatives
Redirecting...
Messenger alternatives
Are Skype phone calls to Ukraine for free? Yes, any call to Ukraine through Skype is now free of charge. Keep in touch with free video chat, messaging & affordable international calls. Create instant online video calls with one click, no download required.
Skype alternatives
Discord is the easiest way to talk over voice, video, and text. Talk, chat, hang out, and stay close with your friends and communities.
Discordapp alternatives
Tải Zalo PC cho máy tính để sử dụng các tính năng vượt trội như gửi file 1GB, Chụp màn hình, Phân loại nhóm,... Download Zalo trên các nền tảng Windows, Mac OS
Zalo alternatives
GroupMe brings group text messaging to every phone. Group message with the people in your life that are important to you.
Groupme alternatives The top live-streaming platform for content creators to share their talents and monetize their supporters. View, engage and support your favorite Broadcasters.
Tango alternatives
IMVU's Official Website. IMVU is a 3D Avatar Social App that allows users to explore thousands of Virtual Worlds or Metaverse, create 3D Avatars, enjoy 3D Chats, meet people from all over the world in virtual settings, and spread the power of friendship.
Imvu alternatives