#Haus Websites On Xranks
Explore the best haus websites in the world based on ranking, traffic and engagement such as immobilienscout24, immowelt or hornbach.
Jetzt Wohnungen, Häuser und Gewerbeflächen mieten, kaufen oder inserieren » Das größte Angebot an Immobilien findest du bei ImmoScout24.
Immobilienscout24 alternatives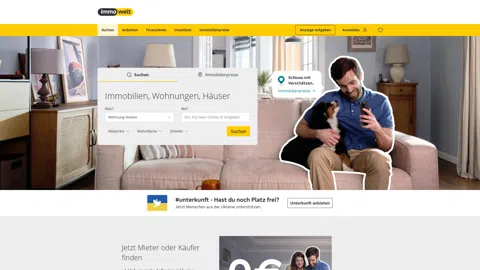 Aktuelle Immobilien, schöne Wohnungen und Häuser zur Miete oder Kauf in ganz Deutschland. Jetzt online, schnell & einfach, persönlichen Wohntraum finden!
Immowelt alternatives
Alles für Dein Projekt: 250.000 Artikel✓ Dauertiefpreise auch nach dem Kauf✓ Online bestellen oder reservieren & abholen im Markt✓ Es gibt immer was zu tun!
Hornbach alternatives
BAUHAUS Online-Shop - Ihr Fachcentrum, wenn's gut werden muss. Jetzt online bestellen oder Reservieren & Abholen in Ihrem Fachcentrum.
Bauhaus alternatives