Prodest
Alternatives & Competitors
O PRODEST atua como órgão gestor e executor das atividades relacionadas com a tecnologia da informação e comunicação, na administração pública do Estado.
Prodest data
Alternatives & competitors to prodest.es.gov.br in terms of content, traffic and structure
GTD.gov :: Grupo de Transformação Digital.
Gtdgov alternatives
HOME | Jornal ABEP TIC.
Jornaldaabep alternatives
PRODEB .
Prodeb alternatives
ABEP - Associação Brasileira de Entidades Estaduais de Tecnologia da Informação e Comunicação.
Abep-tic alternatives
O Instituto de Previdência dos Servidores do Estado do Espírito Santo (IPAJM) é uma autarquia, gestora única do ES-Previdência.
Ipajm alternatives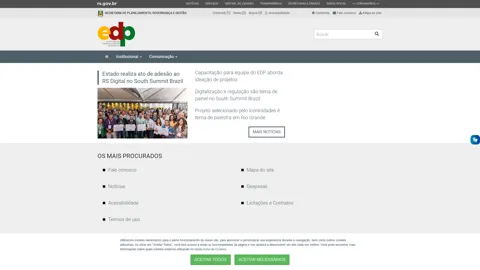 O Escritório de Desenvolvimento de Projetos (EDP) tem por finalidade contribuir para a modernização e para a melhoria da eficiência do Estado do Rio Grande do Sul, por meio da concepção e da execução de projetos.
Edp alternatives
SECOP 2019 – 47º Seminário Nacional de TIC para a Gestão Pública.
Secop alternatives
Home - Governadoria.
Secretariageral alternatives